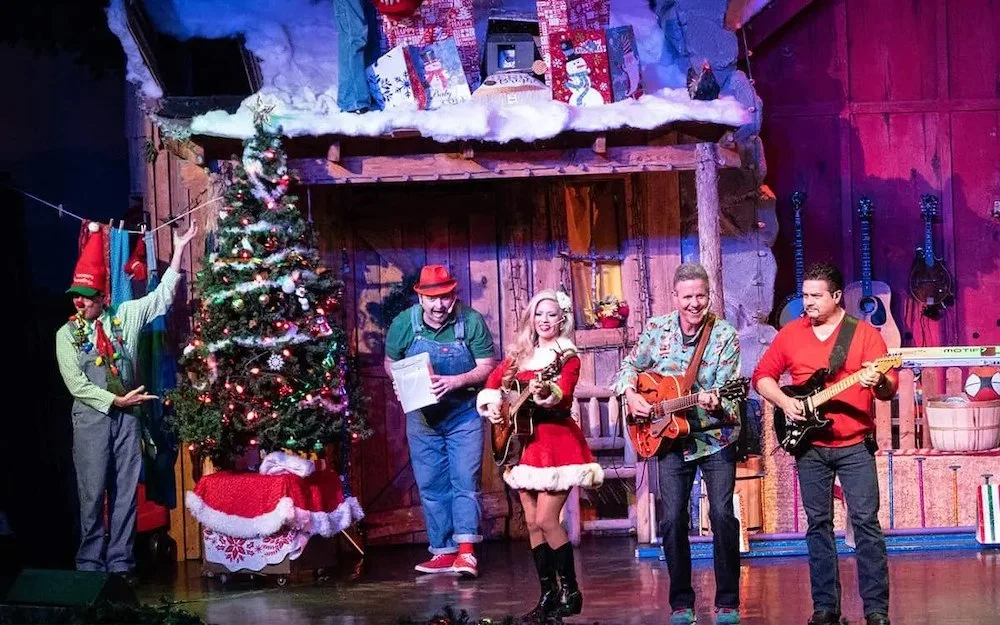 3 of the Best Christmas Shows in Pigeon Forge
The holiday season is here, and you know what that means — it's time to enjoy an incredible Christmas show in the Smokies! There's no better way to get into the Christmas spirit than watching an entertaining holiday show with loved ones. You'll be able to create memories that will last long after Christmas is over. Need help deciding where to see the best show? Here are 3 of our favorite Christmas shows in Pigeon Forge:
1. A Comedy Barn Christmas
Of course, A Comedy Barn Christmas is at the top of our list! Our Christmas show is truly one-of-a-kind. Not only will it put you in the Christmas spirit, but it will have you laughing all night long! A Comedy Barn Christmas features Christmas music, Christmas costumes, and special Christmas acts that you can only see at our show. We're not joking when we say it's the funniest Christmas show in all of Tennessee! Our show combines the talents and festive antics of comedians, jugglers, ventriloquists, and live animal performers who wow the audience with their cheerful routines. Join us at The Comedy Barn Theater for a hilarious Christmas performance you won't forget.
2. Hatfield & McCoy Christmas Disaster Dinner Feud
'Twas the fight before Christmas at Hatfield & McCoy Dinner Feud this holiday season! Watch as Pa Hatfield and Ma McCoy try to set aside their differences in the spirit of the season. The two famous, feuding families come together for a night of fun, food, and entertainment that will make you feel better about spending the holidays with your in-laws! Enjoy holiday singing and dancing, mighty feats of strength, jaw-dropping stunts, and side-splitting comedy. You'll even get to watch as a high-flying contraption helps the sheriff keep an eye on the families to see who earned a spot on Santa's naughty list! At Hatfield & McCoy Christmas Disaster Dinner Feud, you'll also get to enjoy a family-style holiday feast that tastes like it came right from Granny's kitchen! The meal includes Feudin' Fried Chick'n, Open Pit Pulled-to-Pieces Pork Barbeque, Southern Style Creamy Soup, Smashed Mashed Taters, and more. Be sure to save room for Granny's Famous Specialty Dessert!
3. Christmas at Dolly Parton's Stampede
Another one of our favorite Christmas shows in Pigeon Forge is Dolly Parton's Stampede! If you haven't been before, you have to plan a visit to experience Christmas at Dolly Parton's Stampede! The spirit of the season is brought to life in a heartwarming performance that features 32 beautiful horses. Watch as snow falls softly and the arena is transformed into a winter wonderland with Christmas lights, evergreens, old-fashioned holiday costumes, and familiar holiday music. During the performance, elves from the North and South Pole compete in a friendly rivalry, and Santa Claus makes an appearance with his authentic sleigh full of goodies! One of the best parts of the show, however, is the spectacular live nativity that brings the true meaning of Christmas to life as three kings ride atop camels on their way to Bethlehem, and the stunning beauty of an angel captivates the audience. You'll also get to enjoy a four-course holiday feast of a tender whole rotisserie chicken, hickory smoked barbecued pork loin, creamy vegetable soup, and more while you watch.
Now that you know the best Christmas shows in Pigeon Forge, it's time to plan a trip to see them! Start by getting your tickets to A Comedy Barn Christmas and have a happy holiday season!