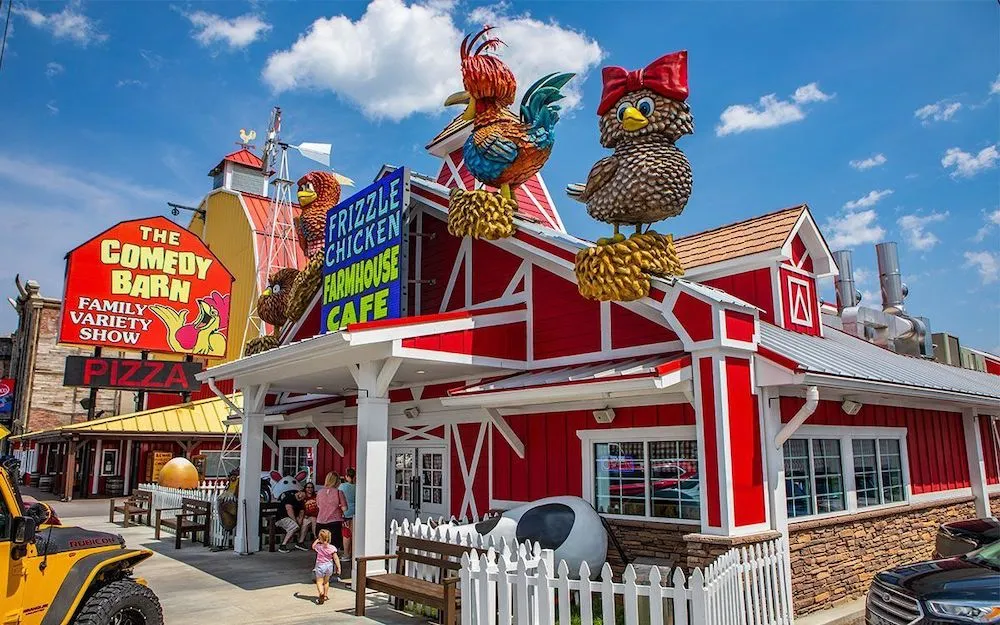 3 Reasons to Dine at Frizzle Chicken Café in Pigeon Forge
Pigeon Forge is home to so many delicious restaurants! If you're looking to try something different the next time you're in town, look no further than Frizzle Chicken Café. This one-of-a-kind Pigeon Forge restaurant is known for its delicious food and family-friendly atmosphere. Kids especially love dining here! To help you learn more, we've made a list of the top 3 reasons to dine at Frizzle Chicken Café in Pigeon Forge:
1. Unique Experience
Why settle for an ordinary restaurant when you can enjoy a unique dining experience at Frizzle Chicken Café? Located right next door to our Pigeon Forge show is this incredible restaurant that specializes in food and fun. What sets it apart from other restaurants in the area is that it doesn't just offer a delicious menu — it also keeps diners entertained while they eat! Frizzle Chicken Café is home to the most animatronic chickens assembled in the world. These animatronic chickens serenade you while you eat, so get ready to listen to Sweet Caroline, Rocky Top, YMCA, and more.
2. Delicious Food for Breakfast & Lunch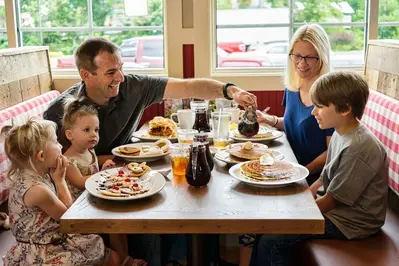 Another great reason to dine at Frizzle Chicken Café in Pigeon Forge is because you can enjoy either breakfast or lunch here — or both! To start your day off right, head to this Pigeon Forge restaurant for breakfast. The menu features Southern classics like biscuits and sausage gravy and chicken and waffles, along with specials like its breakfast tacos, which includes 3 soft shell tortillas loaded with scrambled eggs and your choice of sausage, bacon, or ham, topped with cheese, served with pico de gallo and a side of home fries. Kids will be more than satisfied with the special Bear Cakes, which are pancakes in the shape of a bear, topped with chocolate and whipped cream!
If you visit for lunch, enjoy your choice of tasty sandwich, burger, or chicken tenders served with fries and coleslaw! Options include everything from a chuckwagon steak sandwich to a BLT classic. Kids get to choose a hamburger, a cheeseburger, a grilled cheese, or chicken tenders served with fries or a fruit cup! You can't go wrong with anything on the menu.
3. Fun for the Whole Family
You won't struggle finding a restaurant the whole family can agree upon when you're in Pigeon Forge — just visit Frizzle Chicken Café! It's no secret that this restaurant is fun for the whole family, and it has something on the menu for everyone. Whether you're in the mood for a hearty breakfast or a quick lunch before a full afternoon of fun in Pigeon Forge, your family will love dining at Frizzle Chicken Café. We bet the kids will even be singing along with the chickens by the end of the meal!
More Things to Do Near Frizzle Chicken Café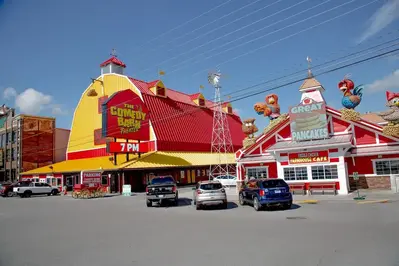 Frizzle Chicken Café is right next door to The Comedy Barn Theater, our award-winning clean comedy show. Join us for an evening filled with a thousand laughs as our comedians, jugglers, ventriloquists, and barnyard animals entertain you with their hilarious antics and side-splitting jokes. After a fun family meal at Frizzle Chicken Café, you'll love having a family-friendly evening at our show!
For more ideas on what to do nearby, check out these exciting things to do in Pigeon Forge.