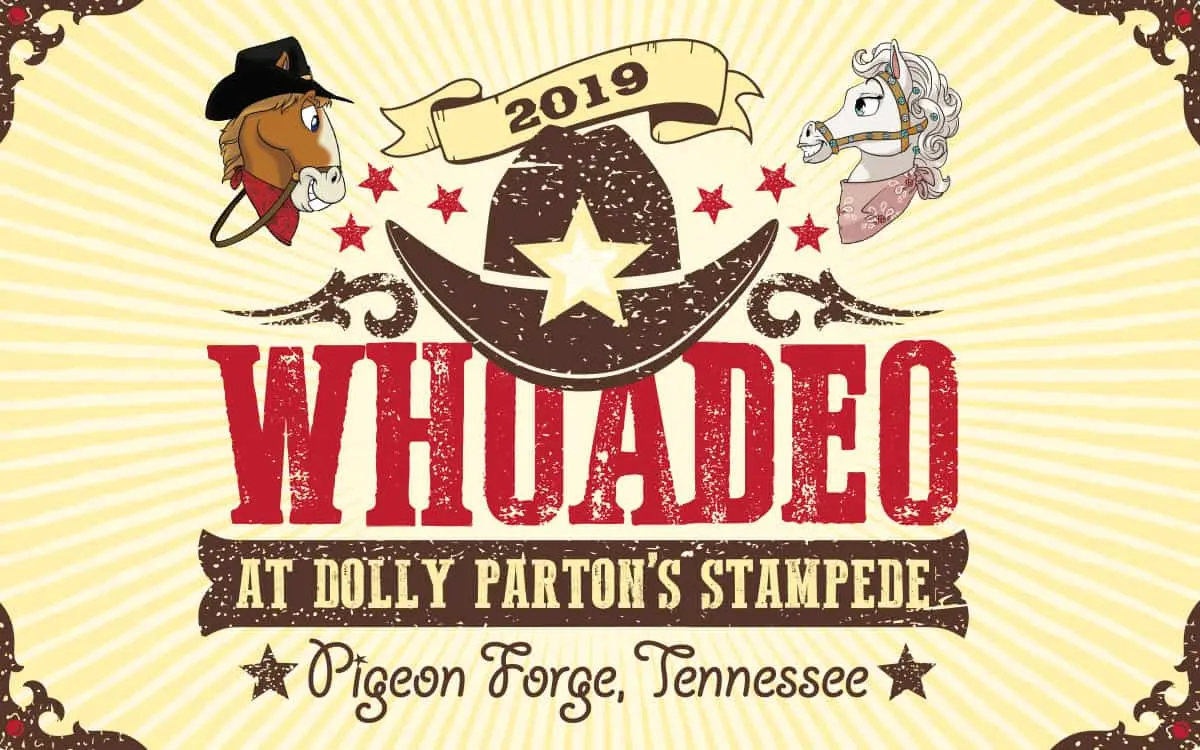 Whoadeo Kids' Event At Dolly Parton's Stampede September 21, 2019
Comedy Barn Performers Appearing At Celebrity Storytelling Stage At Whoadeo Kids' Event
Dolly Parton's Stampede, Pirates Voyage And Hatfield & McCoy Dinner Shows And Food City Kid's Club Present The 13th Annual Fun-Filled "Whoadeo" Kids' Event, September 21, 2019 (8:30 AM – 1 PM).
Are you looking for a great outdoor event with family fun, great kids activities, festive fall decorations, food and mascots? All that and much more can be found at a memory-making event at no cost to participants – the 13th annual Whoadeo, held at Dolly Parton's Stampede in Pigeon Forge on Saturday, September 21, 2019.
Dolly Parton's Stampede Dinner Attraction, Pirates Voyage Dinner & Show, and the Hatfield & McCoy Dinner Feud, along with partners Food City and Coca-Cola®, present this fun-filled event, with activities including costume contests, mascot characters from a variety of Smoky Mountain attractions, stick horse competitions, and a free outdoor carnival from 8:30 a.m. to 1 p.m. Area attractions as well as law enforcement, fire and rescue partners also are part of this special event, adding to the family atmosphere and offering information in an entertaining way. And we are going to be there too!
Celebrity Storytelling
Whoadeo features a celebrity storytelling stage highlighting Dolly Parton's Imagination Library. This crowd favorite has guest storytellers including Knoxville TV personalities, Stampede emcee Jay Teter and his sidekick Skeeter, Pirates Voyage very own Blackbeard, and performers from Hatfield & McCoy Dinner Feud, The Comedy Barn Theater and Smoky Mountain Opry. We hope to see you there!
Costume Contests & Stick Horse Competitions
Do you have a great costume? Or perhaps you have a feisty stick horse ready for action! For the costume contests and stick horse competitions, children will participate in three age groups: ages 3-5; 6-9 and 10-12. Every Whoadeo participant (ages 3-12) receives a free Stampede admission ticket to the 3:30 p.m. dinner show on Sept. 21. Children may register for the Whoadeo on Saturday, Sept. 21 beginning at 8 a.m. at Dolly Parton's Stampede located at 3849 Parkway in Pigeon Forge, Tenn. The only requirement to compete in the competition is a stick horse which can be homemade or purchased. Free stick horses also will be provided at the event, while supplies last.
Participants will compete in a series of Whoadeo competitions, including a cowboy costume contest, a "parade of stick horses" and "stick horse barrel races." These contests all will take place inside the Stampede building, offering a rare chance for children to actually participate on the main arena floor. Contestants compete for first, second and third place prizes in each of three age brackets (ages 3-5, 6-9 and 10-12) for each competition – including bicycles and tablets.
Stick Horse Competition Times
Ages 3-5 (10 AM)
Ages 6-9 (11 AM)
Ages 10-12 (12 PM)
*Registration ends 45 minutes prior to each competition.
"This is Food City's 13th year to join Dolly Parton's dinner shows for this family-friendly Whoadeo event," said Steven C. Smith, President/CEO of Food City. "From returning competitors to first-time participants, this event celebrates creativity in an atmosphere that's fun for everyone."
Free Whoadeo Carnival
All children must be accompanied by a parent and/or guardian. Families are invited to attend the free Whoadeo carnival from 8:30 a.m. until 1 p.m. in the Stampede parking lot. Food City will provide complimentary snacks for participating children, and Coca-Cola® will provide free soft drinks. Each Whoadeo participant also will receive a Kid's Club backpack from Food City (while supplies last), a voucher for one free child's ticket to The Comedy Barn Theater and a complimentary one-day child's ticket to Dollywood (valid for children ages 3-9 years old).
For more information on the Whoadeo Kids Event, call 865-453-4400.
"Coca-Cola" is a registered trademark of The Coca-Cola Company.