How Our Christmas Show in Pigeon Forge Gets You in the Holiday Spirit
It's that time of year again — time to celebrate the holidays with us at The Comedy Barn Theater in Pigeon Forge! We love welcoming visitors to our unique Christmas show. You won't find another holiday performance quite like this one anywhere else in the world! If you need more convincing before booking your tickets to our show, take a look at these 3 ways our Christmas show in Pigeon Forge gets you in the holiday spirit:
1. Family Fun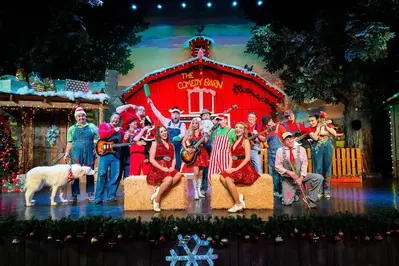 The most important part about the holiday season is getting to spend quality time with the ones you love, and there's no better place to do that than at our Pigeon Forge theater! Our Christmas show is fun for the whole family. All ages will love the holiday entertainment we provide, from our clean comedy to our familiar Christmas music. Bring the kids, the parents, and the grandparents along for a night of a thousand laughs at The Comedy Barn Theater. For more family excitement, make sure to stop by our gift shop before you leave! You'll find the perfect souvenirs to take back home, along with holiday gifts for your loved ones.
2. Laughter
What better way to get into the holiday spirit than by laughing the night away to a fun and festive performance? Our Christmas show in Pigeon Forge is one that only The Comedy Barn can bring you. You'll hear nothing but Christmas music, see nothing but Christmas costumes, and laugh at special Christmas acts you won't see anywhere else. We have the funniest Christmas show in all of Tennessee! We guarantee you'll laugh at least once every minute as our cast members perform hilarious holiday acts. The laughter will only get louder when we invite a few audience members to join in on all the fun!
3. Great Location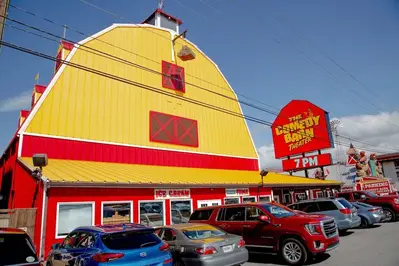 It's not hard to feel the Christmas magic when you're at The Comedy Barn! Another way our Christmas show in Pigeon Forge gets you in the holiday spirit is by having a great location in the heart of the city. We're located right on the Pigeon Forge Parkway, meaning we're just a short drive from more holiday festivities. We're also surrounded by beautiful scenery and Christmas decorations! When you leave our show at the end of the night, you'll be greeted by beautiful twinkling lights lining the Parkway. We also have plenty of holiday decorations around our theater for you to enjoy. You'll love taking in all the Christmas sights at and near our theater!
About Our Christmas Show in Pigeon Forge
The Comedy Barn in Pigeon Forge is ready to put you in the holiday spirit! Our Christmas comedy show results in just as many, if not more, laughs as our regular season show, so you're guaranteed to be laughing all evening long. Enjoy the Christmas songs you know and love, special Christmas costumes unlike anything you've seen before, and hilarious Christmas acts.
Are you ready to experience the funniest Christmas show in the Smoky Mountains? Get your tickets to our Christmas show in Pigeon Forge today.