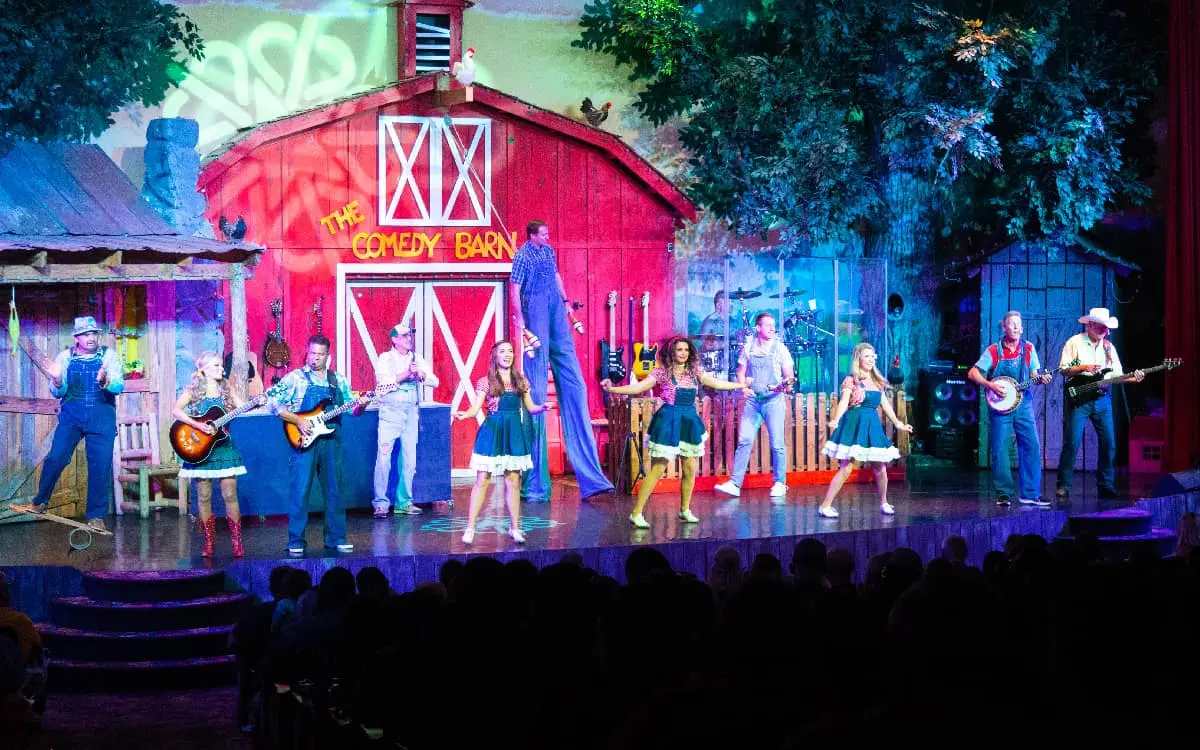 The Comedy Barn Theater Celebrates 25 Seasons of Laughs in 2019
Special Anniversary Show on July 30 Celebrates 25 Seasons of Laughs, Family Fun and Creating Memories
Twenty-five years of laughs, family fun and clean comedy are being celebrated at The Comedy Barn Theater in Pigeon Forge this year, and a special show on Tuesday night, July 30 commemorated this special entertainment milestone.
Here are the basics if you've never experienced what has been awarded the title of Pigeon Forge's Funniest Show year after year. This hilarious show combines the talents and fun antics of magicians, comedians, jugglers, ventriloquists, and even members of the audience in a variety of fun routines that offer surprises and laughs galore. Lovable animals take the stage for more family fun, while live country and gospel music as well as Smoky Mountain clogging also take center stage with memorable performances that everyone in attendance will enjoy.
Original Cast Members
Four original cast members have been entertaining young and old at The Comedy Barn Theater for 25 seasons since the first show in 1995, and they each have favorite memories and parts of the act that they find special and offer some of the many reasons why people come to this show – and even more why they keep coming back year after year. Ron Jeffery came to the area 35 years ago to play bass for Hee Haw legend Archie Campbell's show, then joined the original Comedy Barn cast. Eric Lambert was one of the original comedians, Buddy Cline has been the band's drummer since that first night, and Charlie King has provided the band with its guitar melodies for all 25 years. Kathy Kearney, now Executive Assistant to the General Manager at the Hatfield & McCoy Dinner Show, also came on board – first selling tickets for the show and then joining the cast in the magician and animal acts.
Jeffery says he knows what makes the Comedy Barn so special. "The whole place is a family, and everyone has been here so long, everyone gets along. People come in here to see (comedian) Danny (Devaney), to see me and Eric. It's just such a unique situation that keeps people coming back." Kearney noted that it's two very simple ingredients that set this show apart: "Good clean comedy and laughter are what has made it such a favorite throughout the years."
Cline added that while the show has played for two and a half decades, each night is a different experience. "The audience makes the show so special, because it's different every night. The people you have up on stage, like Eric, you never know what he is going to do. Even though we have been doing it for 25 years, some person could come on stage (in the audience participation segments) and do it totally different and do something we have never seen before."
Special Memories
While this show celebrates its 25th anniversary of entertaining Smoky Mountain visitors, the troupe at The Comedy Barn knows that each show is an opportunity to provide special memories for those in attendance. Jeffery says he remembers one couple who came 15 times in one year. "You get to know the guests by name, you get to know their kids, and 25 years later, you get to know their grandkids. It is just amazing how generations of families come to Comedy Barn." King echoed those comments. "It is awesome to be a part of something this life-changing as far as lots of customers coming back year after year after year after year. We see the same folks come back from Texas, Florida, Georgia, and California just to name a few places. What we have here is very special; it is like no other."
The cast enjoys their jobs, and it shows on stage – to the audience and to their fellow entertainers.
The cast enjoys their jobs, and it shows on stage – to the audience and to their fellow entertainers. "My favorite thing that I get to do is improvisation (with the audience)," Lambert said, "that freedom to say something that will make everyone laugh from ages three to 90 is what makes this a wonderful, challenging and rewarding job." King says he just loves doing what he does – playing the guitar – and loves to hear Kendall Manning sing. "And of course, I love Danny and Eric. Those two are absolutely unbelievable – just fantastic comedians." Cline loves the interaction with fellow original Ron Jeffery on the Hank Snow classic "I've Been Everywhere." "Even though we've done the number so much, it's still fun to play every show (after 25 years)."
Looking Ahead
After 25 seasons, this award-winning comedy-variety adventure shows no signs of slowing down as it heads into its next 25 years. "I knew that (we) would be here 25 years later," Lambert said. "The reason is that we always intended for this to be something that took a stand; we built the Comedy Barn on the principles of clean family comedy and audience interactions; those things are eternal." His co-star Charlie King summed it up similarly. "The night of the first show just seemed like everything worked. Everybody was just happy performing with each other, and we still are. Throughout the years, it's been easy for us to accept new cast members as they become part of the family. The people that I work with have been so amazing – we are like family." Jeffery added, "After one week, I had a feeling this was something pretty special." Kearney summed up why she is still part of The Comedy Barn family after 25 years: "It's home."
Millions of new laughs can be heard just ahead as the Comedy Barns heads into its next decades of good clean fun. "It's our job to make our guests laugh," Lambert said, "and in 25 years, we have learned very well how to make families laugh."